December 6, 2019
Holiday Gathering
James & Laura Lynn's Home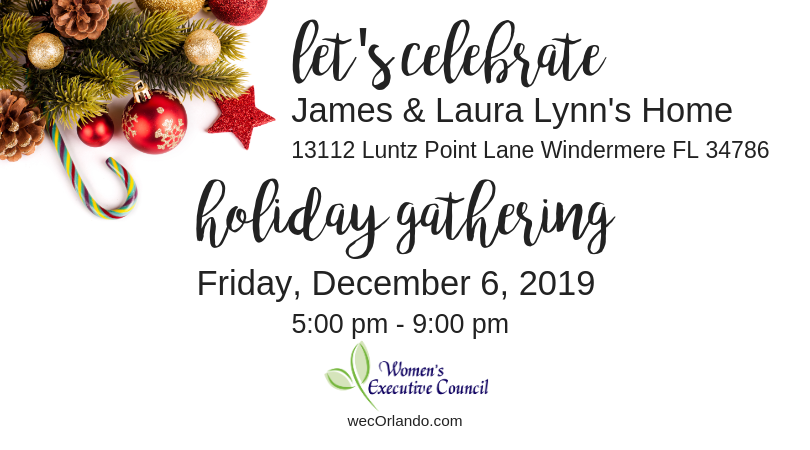 Join us at our annual holiday gathering as we celebrate the holiday season and our accomplishments!
Please contact Laura Lynn [email protected] and let her know if you are able to attend and what you are bringing. WEC will provide the main dish and members and guests will bring drinks, side dishes, and desserts to the gathering.
---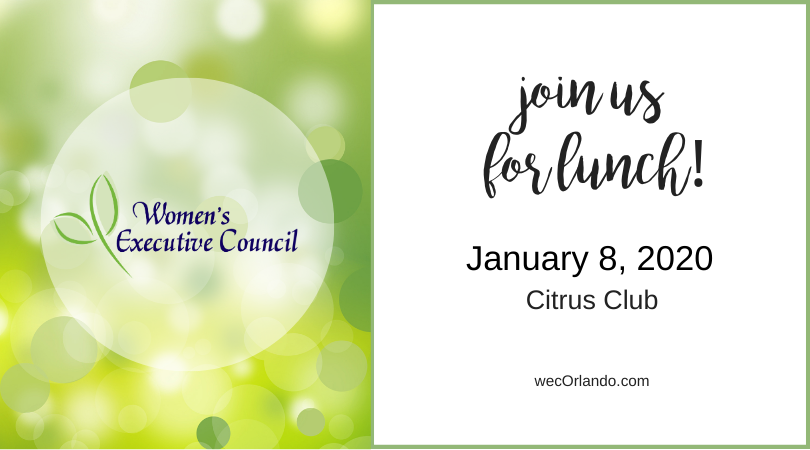 We will resume our regularly scheduled luncheons on January 8. Have a wonderful holiday season! Remember to register by noon on Friday, January 3, to avoid any LATE fees and to guarantee your reservation.
---
SAVE THE DATE 2020
January 8
February 12
March 11
April 8
May 13
June 10
July 8
August 12
September 9
October 14
November 11: WEC Elections and Business
December (Holiday Party)
---
SPEAKERS IN 2019
Heatherann Antonacci | 2018 Women's Achievement Awards Education Honoree, former President, Herzing University

Cornita A. Riley | Retired, Chief Orange County Corrections, 2016 Women's Achievement Awards Central Florida Woman of the Year

Kirsten B. Carter, MD | Internal Medicine Physician, Grace Medical Home

Secily Wilson, | WOW Legacy; Shanta Barton Stubbs, PhD, MA, LMHC | New Image Youth Center; Deanna Snyder, RN | Be Well Essentials

Karen Willis | Chief Executive Officer, Early Learning Coalition of Orange County

Deborah Barra | Chief Assistant State Attorney, Ninth Judicial Circuit Office of the State Attorney's Office
Kelly Lafferman | Chief Marketing Officer & Principal, Findsome & Winmore
Bernadette Spong | Chief Financial Officer, Orlando Health
Roseann Harrington, Chief of Staff | Orange County Government
SPEAKERS IN 2018
Eryka Washington | Ninth Judicial Circuit Office of the State Attorney's Office
Secily Wilson | The WOW Legacy Group, LLC
Sharon Spano, PhD |

Business Strategist, Author & Professional Integral Coach

Robin Maynard-Harris | Founder, Libby's Legacy Breast Cancer Foundation
Jill Bolander Cohen | Founder, The Lifeboat Project

Jennifer Foster | Owner & Executive Producer, Foster Productions & Co-Founder, One Orlando Alliance

Karla Radka | Chief Operating Officer, Goodwill Industries of Central Florida

Pamela (Sissi) Carroll, EdD | Dean, UCF College of Education and Human Performance

Peg Cornwell | Associate to the President for College & Community Relations & Micki Meyer |

Lord Family Assistant Vice President for Student Affairs & Community, Rollins College

Aida Lublin | Owner, Brightway Insurance, The Lublin Agency
SPEAKERS IN 2017
Cyndia Morales Muñiz, EdD, Assistant Director of Multicultural Academic & Support Services | University of Central Florida
Kari Conley, Director, Community Relations | Orlando Health

Diane O'Dell, President of Community & Diversity Relations & Executive Director of the Foundation | Universal Orlando

Maryann Barry, CEO | Girl Scouts of Citrus

Lieutenant General Mark Hertling, Retired Army, Senior Vice President, Global Partnering, Leadership Development & Health Performance Strategies | Florida Hospital

Michelle Brady Palmer, Manager, Community Engagement | SeaWorld Parks & Resorts Orlando

Barbara Jenkins, EdD, Superintendent | Orange County Public Schools

Joie Cadle, Elected Board Member, Orange County Public Schools, 2017 WEC Woman of the Year