February 9, 2022
Ali Manion
2022-2023 Walt Disney World Ambassador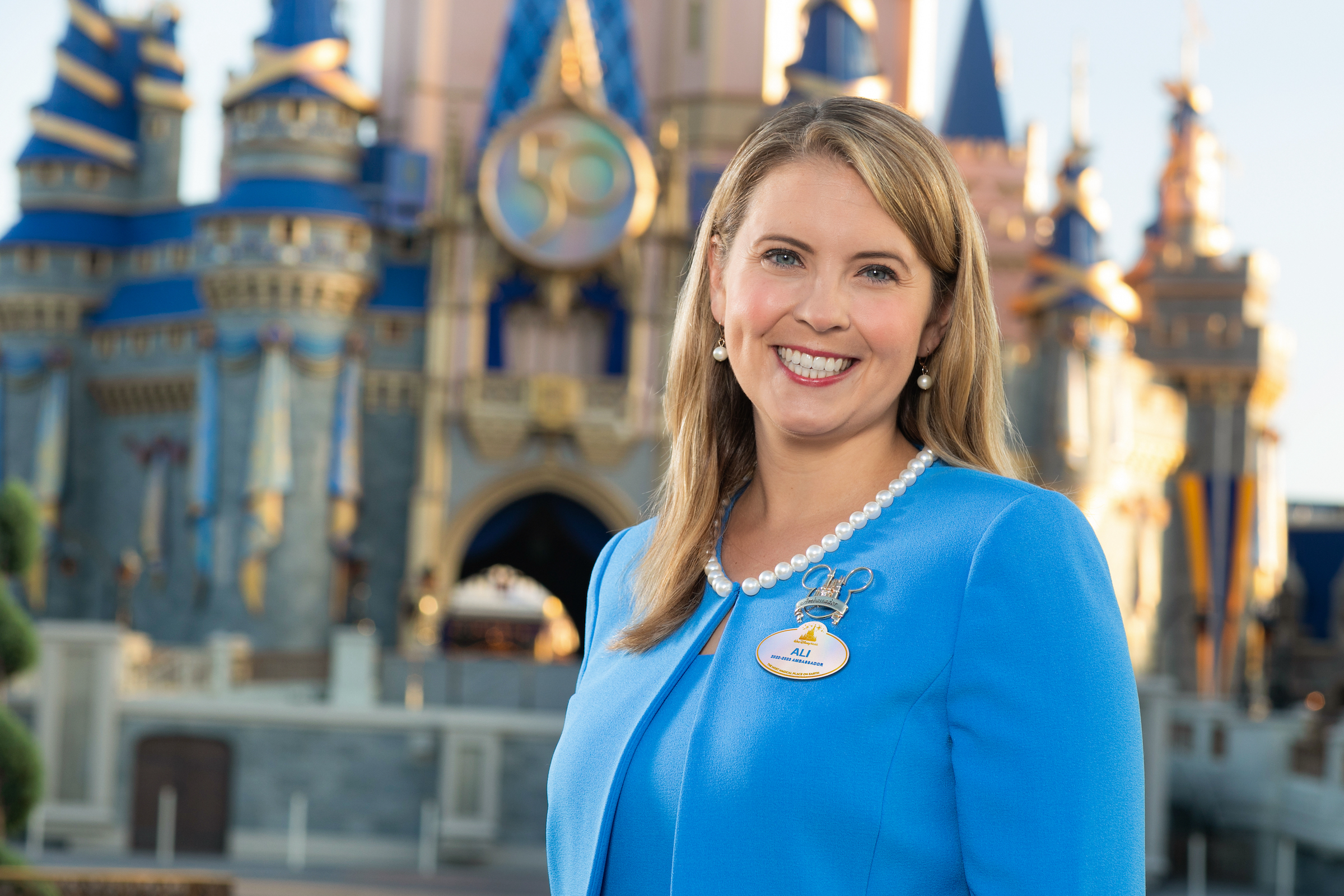 Growing up in the Midwest, Ali always looked forward to her family's annual Walt Disney World vacation, where she would fall in love with the world of live entertainment throughout the theme parks. Ali graduated from Louisiana State University in 2012 with a Bachelor of Arts in Mass Communication and a minor in Dance before starting her Disney career as a Character Performer on the Disney College Program. Ali continued her Disney career in Entertainment, performing in the "Main Street Electrical Parade," and the opening casts of the "Disney Festival of Fantasy Parade," "Frozen Summer Fun," and "For the First Time in Forever: A Frozen Sing-Along Celebration." Ali also discovered her love of facilitation and training as an Operations Training Facilitator and a proud member of the 2016 Traditions team. She then transitioned to a Guest Communications Associate role, where she corresponded with Guests and created proactive content for @WDWToday on Twitter. Ali returned to Entertainment in 2018, where she took on roles as a Performance Specialist, Communications Manager for Disney Live Entertainment, and Project Manager. Most recently, before stepping into the Walt Disney World Ambassador Role, Ali lead Cast Members as an Entertainment Guest Experience Manager at Disney's Animal Kingdom Theme Park. Ali truly loves empowering Cast Members to create magic for our Guests, and the authentic passion each and every Cast Member brings to their role inspires her daily. She is honored and thrilled to be a part of the magic.
Council Luncheons
Women's Executive Council monthly Luncheon Meetings are for members and open to guests.
The payment method is required in advance with a valid credit card to secure your reservation and meal selection.
Lunch Meeting is $30.00 for members in good standing before the deadline of NOON on the FRIDAY prior to the meeting. Remember to log into your WEC Membership account to reflect the discounted price.
Lunch Meeting is $35.00 for guests.
Lunch Meeting is $40.00 for guests and members who reserve after the deadline.

All luncheon reservations are final. No shows will be invoiced.

​Seating is LIMITED to reservations. Late reservations and those who arrive without a reservation, will be placed on a stand-by list to see if we are able to offer you a seat.
Citrus Club Parking
GUESTS: Parking options are street side with meters and in the Citrus Club parking garage for $3.00 / hour
WEC MEMBERS ONLY: your fee includes your lunch and two (2) hours of complimentary parking. Additional parking time is paid for by the member.
---
Save the Date!
February 9, 2022
March 9, 2022
April 13, 2022
May 11, 2022
June 8, 2022
July 13, 2022
August 10, 2022
September 14, 2022
October 12, 2022
November 9, 2022
December: Holiday Party
---
2021 Guest Speakers

---
2020 Guest Speakers

Mayor Buddy Dyer | City of Orlando

Mary Pigatti | Chief Executive Officer | eMindful

WEC Panel Discussion

Catherine A Ni, Director, Advanced Rotary Wing & Ground Systems | Lockheed Martin - Missiles & Fire Control

Pamela Landwirth, Chief Financial Officer | Give Kids the World

LaVon Bracy, EdD, Advocate for Social Justice & CoFounder | New Covenant Baptist Church of Orlando

Romie Mushtaq, MD, ABIHM, Chief Wellness Officer | Evolution Hospitality
---
2019 Guest Speakers
Heatherann Antonacci | 2018 Women's Achievement Awards Education Honoree, former President, Herzing University

Cornita A. Riley | Retired, Chief Orange County Corrections, 2016 Women's Achievement Awards Central Florida Woman of the Year

Kirsten B. Carter, MD | Internal Medicine Physician, Grace Medical Home

Secily Wilson, | WOW Legacy; Shanta Barton Stubbs, PhD, MA, LMHC | New Image Youth Center; Deanna Snyder, RN | Be Well Essentials

Karen Willis | Chief Executive Officer, Early Learning Coalition of Orange County

Deborah Barra | Chief Assistant State Attorney, Ninth Judicial Circuit Office of the State Attorney's Office
Kelly Lafferman | Chief Marketing Officer & Principal, Findsome & Winmore
Bernadette Spong | Chief Financial Officer, Orlando Health
Roseann Harrington, Chief of Staff | Orange County Government
---
2019 Guest Speakers
Eryka Washington | Ninth Judicial Circuit Office of the State Attorney's Office
Secily Wilson | The WOW Legacy Group, LLC
Sharon Spano, PhD | Business Strategist, Author & Professional Integral Coach
Robin Maynard-Harris | Founder, Libby's Legacy Breast Cancer Foundation
Jill Bolander Cohen | Founder, The Lifeboat Project
Jennifer Foster | Owner & Executive Producer, Foster Productions & Co-Founder, One Orlando Alliance
Karla Radka | Chief Operating Officer, Goodwill Industries of Central Florida
Pamela (Sissi) Carroll, EdD | Dean, UCF College of Education and Human Performance
Peg Cornwell | Associate to the President for College & Community Relations & Micki Meyer | Lord Family Assistant Vice President for Student Affairs & Community, Rollins College

Aida Lublin | Owner, Brightway Insurance, The Lublin Agency
---
2017 Guest Speakers
Cyndia Morales Muñiz, EdD, Assistant Director of Multicultural Academic & Support Services | University of Central Florida
Kari Conley, Director, Community Relations | Orlando Health
Diane O'Dell, President of Community & Diversity Relations & Executive Director of the Foundation | Universal Orlando
Maryann Barry, CEO | Girl Scouts of Citrus
Lieutenant General Mark Hertling, Retired Army, Senior Vice President, Global Partnering, Leadership Development & Health Performance Strategies | Florida Hospital
Michelle Brady Palmer, Manager, Community Engagement | SeaWorld Parks & Resorts Orlando
Barbara Jenkins, EdD, Superintendent | Orange County Public Schools
Joie Cadle, Elected Board Member, Orange County Public Schools, 2017 WEC Woman of the Year