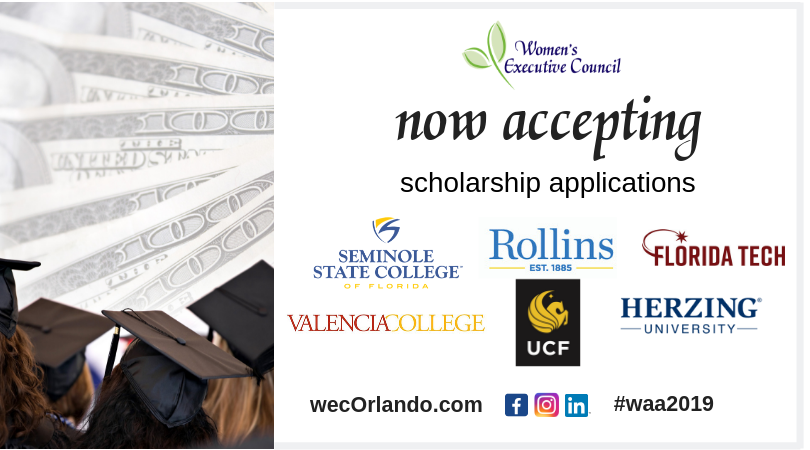 ---
SCHOLARSHIP AWARDS 2019
Beginning in 1987, the Women's Executive Council (WEC) has granted scholarships to deserving women who are entering or attending colleges in the Central Florida area. This year, the WEC will be awarding scholarships of $1,972.00 each.
The $1,972 scholarship commemorates the founding year of WEC - 1972.

---
ELIGIBILITY REQUIREMENTS

The student must be registered for at least 12 hours at the University of Central Florida, Rollins College (including Hamilton Holt School evening division), Valencia College, Seminole State College, Florida Institute of Technology or Herzing University.
The student must have at least a 3.5 GPA pursuing an undergraduate degree or Master's degree. Applications will not be considered without an official transcript sent directly from the school to WEC (with the school seal or emailed directly by the school). An official high school transcript is required if the applicant is entering college for the first time.
The application and ALL attachments must be received by the Scholarship Committee by the deadline noted below to be considered.

Please review your package before your submission, as an incomplete package will NOT be considered.
---
IMPORTANT DATES

Application and ALL attachments must be postmarked or emailed by AUGUST 9, 2019.
Notification of award selection by September 6, 2019. ONLY THE WINNERS WILL BE NOTIFIED AND LISTED ON THE 2019 Women's Achievement Award WEB PAGE. Please be prepared to submit a short biography and a high-resolution professional photo by September 19, 2019, if you are selected.
---
COMPLETE APPLICATION PROCESS
IN ORDER FOR YOUR APPLICATION TO BE CONSIDERED, THE FOLLOWING INSTRUCTIONS MUST BE FOLLOWED:
The application, three (3) letters of recommendation, an official transcript from your school and the essay MUST all be received together. With the exception of the official school transcript, if any document is missing, your application will not be considered.

---
ESSAY - PLEASE PROVIDE ANSWERS TO THE FOLLOWING:
Please explain why you should be awarded a Women's Executive Council scholarship and what difference the scholarship would make to you in the pursuit of your educational and professional goals.
A summary of your educational background including awards received, extra-curricular activities and related information should be provided.
Include what your interests are academically and professionally once you complete your course of study.
Please share any community or other volunteer services with which you are involved.
Feel free to include any personal details regarding your particular situation, financial hardship or obstacles that you had to overcome in the pursuit of your academic endeavors. You must also attach a resume.
Please share where you see yourself in five (5) years.
Please double-space your essay. Your total essay response should not exceed 1000 words.
---
LETTERS OF RECOMMENDATION
Should come from someone who knows you and your school/work ethics. A professor, employer or long-term family friend should write the recommendation.

The letters of recommendation should contain how the writer knows you, for how long they have known you and why they believe you are deserving of the scholarship.
---
FORMATTING AND ATTACHING DOCUMENTS
Application, three (3) Letters of Recommendation, Resume and Essay must be attached to a single email and emailed to [email protected] by 5 pm on August 9, 2019. Official transcripts from your college or university must be emailed or mailed and postmarked by 5:00 p.m. on August 9, 2019, to WEC SCHOLARSHIP COMMITTEE | P.O. BOX 2895, ORLANDO, FL. 32802.

The applicant's name and the school must be in the Subject line (Mary Smith/Valencia) of the email.

The attachments must be in PDF format. Any other format will cause your application to NOT be considered.
The Application, Letters of Recommendation and Essay must be named with the applicant's name and document name (Mary Smith Essay, Mary Smith Letter of Recommendation #1, Mary Smith Application, etc.)
---
The application, Letters of Recommendation, Original TRANSCRIPT and ALL ATTACHMENTS must be emailed or postmarked by 5:00 pm on AUGUST 9, 2019.