Scholarship Application Information
Scholarship Application Deadline:

5 pm on June 30, 2023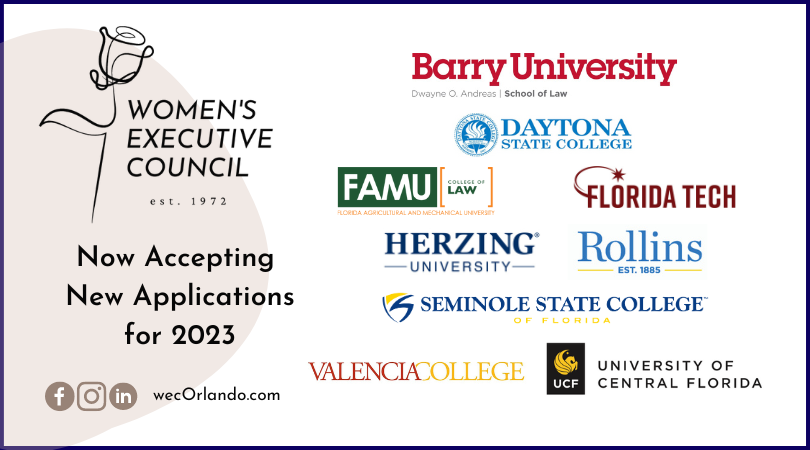 ---
SCHOLARSHIP AWARDS 2023
Beginning in 1987, the Women's Executive Council has granted scholarships to deserving women who are entering or attending colleges in the Central Florida area.
This year the Women's Executive Council will be awarding scholarships of $1,972 each. The $1,972 scholarship commemorates the founding year of WEC – 1972.
ELIGIBILITY REQUIREMENTS
The applicant must be registered as a full-time student (i.e.: 12+ credit hours for undergraduate programs, 9+ credit hours for graduate/law programs, or 6+ credit hours for doctorate programs) at one of the following schools: Barry University Dwayne O. Andreas School of Law; Daytona State College; Florida A&M University (FAMU) College of Law (Orlando); Florida Institute of Technology; Herzing University (Orlando); Rollins College (College of Liberal Arts); Rollins College (Crummer Graduate School of Business); Rollins College (Hamilton Holt School); Seminole State College; University of Central Florida; or Valencia College. High School students must be a Senior and registered to attend one of the above stated Colleges/Universities for Summer or Fall 2023.
The applicant must have at least a 3.0 GPA and be pursuing an Undergraduate, Masters, or Doctorate Degree. Applications will not be considered without a transcript (official or unofficial). An unofficial high school transcript is required if the applicant is entering college for the first time.
The application and all attachments must be received by the WEC Scholarship Committee by the deadline noted below to be considered.
IMPORTANT DATES
Application and all attachments must be e-mailed by the end of the business: June 30, 2023.
Expected notification of award selection: August 1, 2023.
ONLY Winners will be notified and listed on our website. Please be prepared to submit a short biography and a high-resolution professional photo by August 15, 2023, if you are selected. Scholarship recipients will be encouraged to participate in the WEC "Mentor Connect" programs during Fall '23 and Spring '24.
IMPORTANT INSTRUCTIONS
IN ORDER FOR YOUR APPLICATION TO BE CONSIDERED, THE FOLLOWING INSTRUCTIONS MUST BE FOLLOWED:
The application, resume, essay, two (2) letters of recommendation, a transcript (official or unofficial) from your current school and the application must all be received together as attachments via email.
If any document is missing, your application will not be considered.
Resume
Resume must include the following: Education, Work, Community Engagement, Activities, and Honors/Achievements.
Essay - Please provide answers to the following:
Please explain why you should be awarded a Women's Executive Council scholarship. Let us know what difference the scholarship would make to you in the pursuit of your educational, and professional goals. Include, your financial need and any obstacles (if any) that you have had to overcome in the pursuit of your academic endeavors.
Include what your interests are academically and professionally once you complete your course of study.
Please double-space your essay. Your total essay response should be a minimum of 500 words and not exceed 750 words.
Two (2) Letters of Recommendation:
Letters should come from someone who knows you and your school/work ethics. A professor, employer, teacher, guidance counselor, coach, or long-term family friend should write the recommendation. The letters of recommendation should contain how the writer knows you, for how long they have known you, and why they believe you are deserving of the scholarship.
Formatting and Attaching Documents:
Application, resume, essay, two (2) letters of recommendation, and transcript, must be attached to a single email and emailed to

[email protected]

by

5 pm on

June 30, 2023.

The applicant's name and college must be in the email subject line (e.g.: Mary Smith/Valencia College).
The Application, Resume, Essay, Transcript, and two (2) Letters of Recommendation attachments must be named with the applicant's name and document name (Mary Smith Application, Mary Smith Resume, Mary Smith Essay, Mary Smith Letter of Recommendation #1, Mary Smith Letter of Recommendation #2, etc.)
---
The Scholarship Application, Letters of Recommendation, Transcript, and ALL ATTACHMENTS must be emailed or postmarked by 5:00 pm on June 30, 2023.
Here's how you can help!
Join our 1972 Society and fund a scholarship in the amount of $1972
Showcase your organization and partner with us with our Corporate Partner and Event Sponsor packages. (We are working on the 2023 packages and they will be similar.)